A Stepping Stone Foundation Blog
Celebrating International Women's Day – Maritza's Story
A Life of Literacy Passion and Achievement – Maritza's Story
In celebration of International Women's Day, we want to share the story of Maritza – one of our first preschoolers in our LEAF program, one of our first Billie Gannaway Scholarship award winners and a proud parent of 3!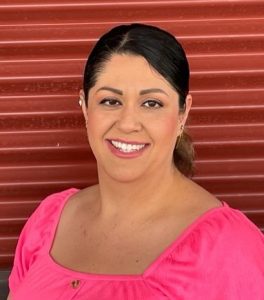 Maritza's father immigrated from Mexico more than four decades ago.  He met and fell in love with Maritza's mom in the United States.  This is a typical and true immigrant story!  Her father had never been to school and remains self-taught in all aspects.  Her mother, who was from Columbia, had completed her education only through the 6th grade.
When Maritza entered the Stepping Stone preschool located at Issac School District in Phoenix, she spoke no English and was at grave risk for school failure because of the fact that both parents had such a low level of education.  While her mother attended English and parenting classes, she went to preschool.  By the end of the year, Maritza was ready to enter kindergarten in English and her mother was prepared to support her.  Her father attended the family celebration at the end of the year where her mother was recognized for learning English.
And Maritza?  She not only finished high school, but with the help of A Stepping Stone Foundation, graduated from Arizona State University and started working with the Department of Justice in Phoenix. Today, 18 years later, Maritza continues to work for the DOJ.  She is a valuable volunteer for the Foundation in the classroom (pictured below) and has served as a member of our Board of Directors and participated in many fundraising events over the years.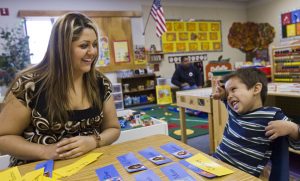 Maritza believes that preschoolers and families deserve a chance of obtaining the American Dream, just like she did! We celebrate Maritza and all of the women who have created success for their families through A Stepping Stone Foundation!