A Stepping Stone Foundation Blog
New Intern!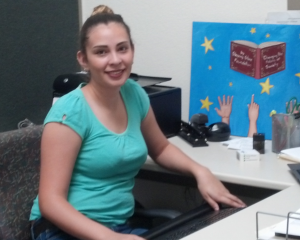 My name is Kimberly Fernandez and I am a former Stepping Stone preschooler. Although it was a long time ago, I remember being in Mrs. Cindy's class (Cindy Amos). I really enjoyed all the fun activities we use to do such as painting, drawing, singing, playing, dancing and even sleeping! Those were fun memories in my life that I will never forget.
Over the years Stepping Stone has helped me in so many different ways. Being the first sibling in my family to attend college could be a little overwhelming. There were times where I felt lost because I didn't know what I was doing. Stepping Stone helped me step into college with the right foot by providing me with information I didn't know, like setting up my FAFSA.  The foundation also helped me by awarding me the Billie Gannaway Scholarship. It was such a great help for me and I'm really thankful for that.
With that being said, I can proudly say that I am currently attending Glendale Community College and after this year, I plan to attend Arizona State University in Tempe where I can finish my B.S. in Business Finance.