A Stepping Stone Foundation Blog
Welcome Julian!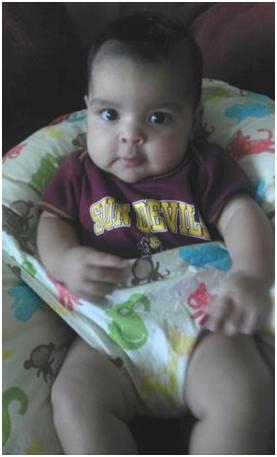 Recently I caught up with former Stepping Stone Board Member, Maritza Rosales.  She was kind enough to share this wonderful picture of her new son, Julian.  See Julian's comments below:
My mom is Maritza Rosales who attended A Stepping Stone Preschool Class 1990-1991 at Mitchell School in Isaac School District– only she was Maritza Hernandez then.

She is an ASU Graduate (class of 2009) Billie Gannaway Scholar (2004-2009) and A Stepping Stone Board Member (2008-2011).

She married my Dad, Luis Rosales, and they bought a home together in the summer of 2010.  They worked really hard to get it ready for me…and then this year along I came to share it with them!