A Stepping Stone Foundation Blog
ASBA Insurance Trust Helps our Kids and Families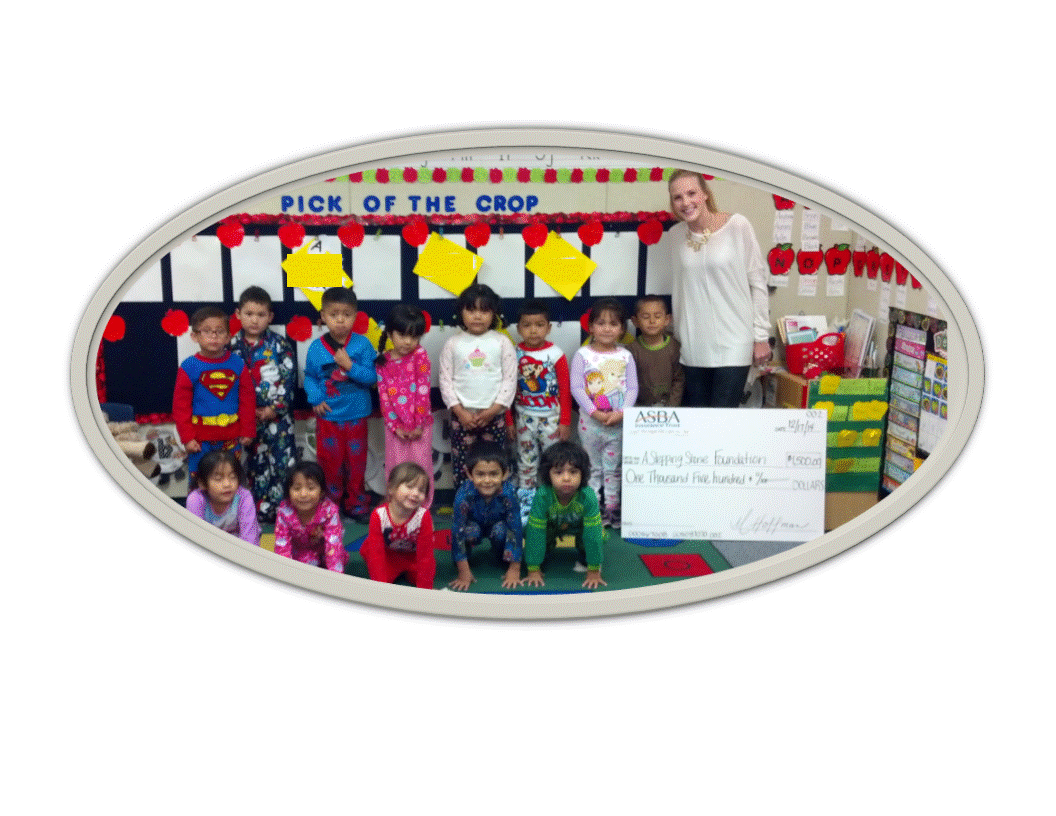 New Spin on Charitable Support
PHOENIX, AZ (December 18, 2014)   What does it take to think out of the box? Ask Sydney Gould from Arizona School Boards Association Insurance Trust (ASBAIT).
Sydney decided instead of purchasing expensive giveaways for the company's booth at the Arizona School Boards Association annual conference at the Biltmore this year, she would ask attendees to write on a decorated tree ornament, answering, "What do you do to make your community a better place?" In exchange, the decorator received a wrist band and a gold colored token to vote between two featured local charities.  Each coin represented a donation that ASBAIT would make to that charity.
Those ASBAIT donations will specifically help A Stepping Stone Foundation and the ACT Fund deliver needed services to local school children.  A Stepping Stone provides preschool, adult education, and parenting classes, to underserved families. ACT improves health and education preparedness of low-income children through health screenings and immunizations at their annual health fair.
"We wanted people to walk away from our booth with the feeling of satisfaction and warmth in their hearts after experiencing the joy of paying it forward during the holiday season", said Sydney Gould, Marketing Coordinator for ASBAIT. ""
Sydney contacted A Stepping Stone Executive Director, Cynthia Gattorna, in November to share an "out of the box" idea she'd had for ASBAIT's participation in the Arizona School Board Association's annual conference at the Biltmore in Phoenix. Instead of spending money on branded giveaways, ASBAIT decided to invest that money in the community by choosing to donate to two charities who work with school children.
"Early childhood programs are the most effective way to ensure healthy development of children who live in poverty and offer the greatest returns to society," Gattorna said. Focused on families with the utmost need, A Stepping Stone's model hinges on making parents a partner in their children's education by holding them accountable for improving their own.
"Sydney's idea to give back to the community is a fun and creative way which reinforces the potential of local business to support the nonprofit community," Gattorna said. We are so very grateful!
About A Stepping Stone Foundation: A Stepping Stone Foundation is a 501(c)(3) nonprofit that provides tuition free, high quality preschool with mandatory adult education to three- and four-year-olds at risk of school failure due to a variety of literacy connected factors through the public school system.  They have been providing services to children and their families in the Phoenix area for 20 years.
About ASBAIT: The Arizona School Boards Association Insurance Trust (ASBAIT) has been successful in providing competitive and affordable employee health care benefit programs to participating Arizona School Districts since 1981.
Contact:
Cynthia Gattorna, Executive Director
A Stepping Stone Foundation
602-843-8281
cindy@asteppingstone.org
Contact:
Sydney Gould, Marketing Coordinator
ASBAIT
602-249-2031
http://www.asbait.org/